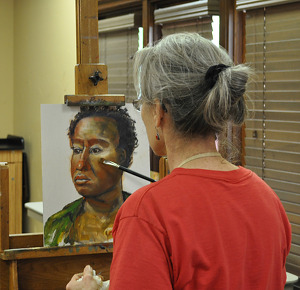 I just finished a 4 day Still Life/Figure Oil Painting Workshop from the artist Robert Johnson, in Fredericksburg Texas.
I feel like I learned a lot, and also learned I have a lot of work to do.
Even though I just started back into painting, my drawing skills really helped me tremendously.
Meeting other artists that have a lot of the same goals is a wonderful way to keep motivated. Learning from a more experienced artist is even better!
The timing was perfect because Friday night was the monthly art crawl to visit the open art galleries.
It was a long drive to and back, about 12 hours each way. Driving in heavy rains, having a flat tire, being strung out on coffee, was part of my travel experience.
My husband asked me if I would do it again and did I think it was worth it?
I told him yes, because it takes a lot to be committed to improve. Other people in the workshop drove for 2 days to get there, and lived farther than I did.
Thank you for reading my blog,
Debra Snyder Heard