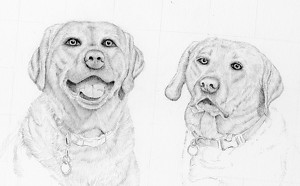 Two Labs by Debra Snyder Heard
My starting point in a painting or drawing of a person or animal is their eyes.
The eyes tell a lot about that person or animal. They are the window into the soul! They tell you a lot about everything, even things you don't want to know.
I was in the veterinary clinic the other day, buying my Boston terrier dog food. While I was in there standing in line, a man rushed in carrying his big dog (it looked like a Shepherd). The atmosphere changed quickly, because it was bad. The doctors' doors opened quickly to let them in. The dog was breathing hard and looked hurt bad. I made the mistake of looking into the dog's eyes as they passed me. They were cloudy, with the glazed look of dying.
When I look at paintings and drawings that are done of the figure of women done in the nude, I notice that the male artist spends a lot of time painting and drawing the private parts. The faces of the women are hardly done, or not done at all. Where are the eyes? Why is the face distorted when everything else is done with detail?
My drawing of "Two Labs" is still coming along nicely! Still have a lot of work to do. Hope you enjoy watching the progress of this drawing!
Thank you for reading my blog!
Debra Snyder Heard