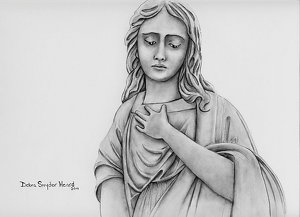 Turning Angel by Debra Snyder Heard
I've been going through a lot of changes lately.
Artistic Changes:
- I get a lot of requests and questions asking if I do oil paintings. People wanting me to do commissions paintings for them.
I need to go where the money is.
- I'm seeing that oil painting is looked on higher in the art world when it comes to money and art competitions.
- I'm wondering if I'm staying with pencil because it's a comfort zone.
- I've spend years practicing my drawing skills, about 30 years. It takes a long time to get really good. It's like having a best friend or lover that does
not take me for granted, and has more respect for me, the more time I spend with him.
- I wonder if I'm changing gears too soon?
I'm not abandoning my drawing or my main theme. I plan to do both, painting and drawing! My first love will always be drawing!
Thank you dear readers for reading my blog. If you have advice or want to say somthing please do!
Debra Snyder Heard