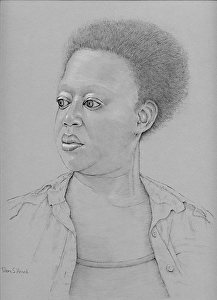 "The Perfect Model" by Debra Snyder Heard
Pencil on Gray Paper, 10 ½ x 13 inches
"Talent takes long patience." by Gustive Flaubert
Several months ago I attend an art workshop in Frederiksberg Texas. On the third day a model was due that morning to pose for us to paint. She walked into the door all flustered because her water pipe was being repaired, and she had no water in her home that morning to wash her hair, and to clean up, so she came as she was. No makeup and wild hair. I liked the honest real look!
What made her such a good model was that she could get into the exact same position/pose after rest breaks. Few people can do this. She used her eyes looking at all angles to measure where she was before moving. She had a positive and charming personality too.
It is very frustrating as an artist painting or drawing, and the model never gets into the exact pose after breaks. It means EVERYTHING changes! A fraction off and the perspective is in another angle. Lots of times I just start over, for the practice, and never have a finished product.
Thank you for reading my blog!
Debra Snyder Heard