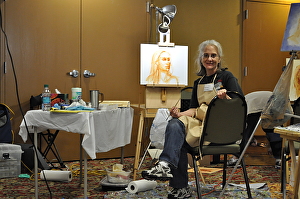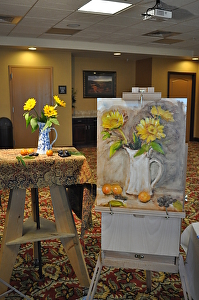 Waiting for the model to return from break. Beginning part of one of my still life paintings.
"Talent is long patience" By Gustave Flaubert
I just finished taking my second, four day still life and figure oil painting workshop, from the artist Robert Johnson in Fredericksburg Texas.
Met a lot of wonderful people, learned a lot, and had a wonderful time. It's about a ten hour drive for me in each direction (that part is not so good).
I also learned a lot about myself in the artistic sense.
-Which direction I want to go in my paintings.
- What I have to do to get better.
- Understood more about my oil painting art supplies.
- Getting out of my comfort zone is good.
I take notes when I go to art workshops. When I get home, I retype them and keep them in a folder with the workshop artist's name. Having notes organized in folders helps me to find information fast later when I am painting.
I'm ready to get back to painting in my studio!
Thank you for reading my blog,
Debra Snyder Heard