A new beginning for the New Year for me is to get back into oil painting!
My easel is in my living room next to a big window that gets the northern light.
I have always felt while painting that it's like being on a battle field fighting, and it's never easy. Richard Schmid, who's art work I admire, wrote "That no matter how skillful you become, painting never gets easy".
Even after reaching the age of 50, goals are important. I love the challenge, and I'm going to be an awesome oil painter!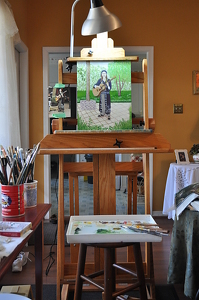 I will post a picture of the painting when I finish!
Thank you for reading by blog!
Debra Snyder Heard