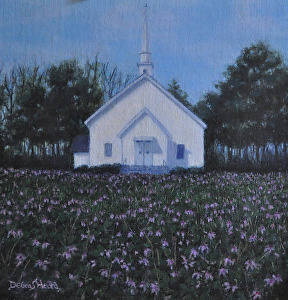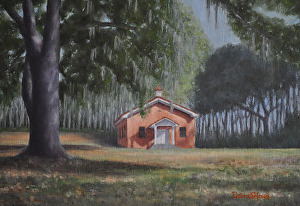 "Sunday Morning" and "Only In The South" by Debra Snyder Heard
"I could never have done what I've done without the determination to concentrate myself on one subject at a time." By Charles Dickens
Dear Readers,

I recently attended a professional oil painting workshop in Frederiksberg Texas. On the first day we were told to pick one subject to paint for a year, and on the last day we were to announce in front of the class our choice and why. Artists in the class announced their themes: trees, cityscapes, mountains, etc. My new art friends were from the western and northern states, even one from Canada. They picked things that they were familiar with, and what they see everyday.
I was the only artist from Louisiana. My first thought was birds ( north Louisiana has a huge, if not the largest variety of birds in our area).
I have lived in the "Bible Belt" for most of my life. When traveling through the southern states to visit family or going to art workshops, I always find myself looking for the small, old country churches that I pass by. So my choice became small churches.
For the passed few months my husband and I have been traveling around the southern states taking tons of pictures of old rural and small churches for me to work from. It kind of like a treasure hunt with maps and driving down back roads.
My goal is to make the landscape around the churches just as important as the buildings itself.
What I hope to communicate to people who look at my paintings, is to see these treasures that we have now from the past, and to see what I see, the humble or noble small buildings in their local environment.
They are not the huge ugly buildings made of tin and slapped together quickly, but beautiful small buildings that represented for a lot of us, memories of our past, being with our family on Sunday mornings.
If you would like to keep up with my journey on "Painting Small Churches" please send me your e-mail address and I will add you to my e-mail list. I will try to post once a month.
P.S. If you know where a wonderful small church is, I would be grateful for you to give me directions. so I can take pictures and add it to my painting list.
Thank you,
Debra Snyder Heard